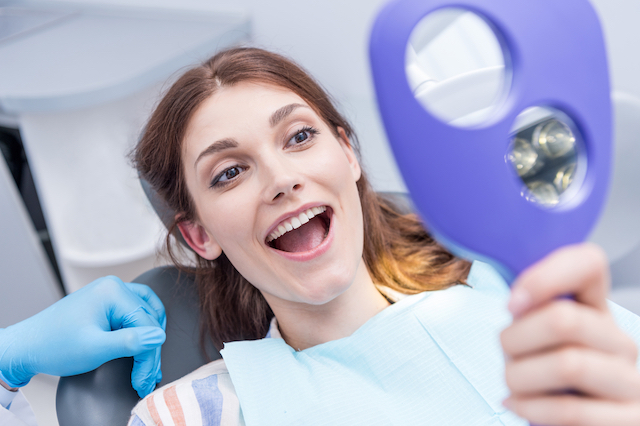 There's no better feeling than smiling - but what if you don't feel confident with your teeth? At Carolina Family Dental, it's our mission to make all of our clients feel good about their smile. That's why we offer metal free dental crowns to enhance the beauty of your natural grin.
In fact, there are several other benefits to metal free crowns and caps other than just a natural look.
The Benefits of Natural Looking Dental Crowns
You've heard it here - metal crowns are a thing of the past! Why opt for a mouth full of metal when you can have the look and feel of natural teeth with your restorations? Metal free dental crowns have many benefits, such as the following:
Less Tooth Removal: Yes; you read that right. Because dentistry has come a long way since the creation of dental crowns, the process that's been created for non-metal crowns requires less tooth removal, though the same, snug fit is still possible.

Allergy Friendly: With metal crowns, sometimes rejection or allergic reactions happen due to the metal in your mouth. This can cause irritation and inflammation. However, with natural looking dental crowns, you won't have to worry about experiencing this discomfort.

Most Natural Looking Option Available: With metal crowns, light doesn't pass through the tooth like with natural enamel, which gives an unnatural appearance. Metal crowns can also cause discoloration like black lines along the gum line. With natural looking dental crowns, you don't have to worry about these issues. The natural looking options for restorations will make you want to smile more.

More Durable: These types of crowns are natural in appearance, but are also similar to the strength that your natural teeth provide. This means that metal-free crowns are durable and also help keep your bite even. And, since they're made of more durable materials, they'll last much longer than crowns with metal.

Less Sensitivity: Do you feel pain or discomfort when you eat or drink hot or cold foods and beverages? What if we told you that metal-free crowns can help? That's right - many people who switch to metal-free dental crowns report feeling less sensitivity - which means you can enjoy foods and drinks that you may not have been able to have in a while.
Have questions about our metal free crowns? Ready to make an appointment to have your teeth restored? Feel free to contact us and we'll be happy to help you feel confident in your smile!